Yao is the fourth child and second son of Catgut and Michelle.
Appearance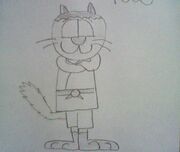 Yao is a Siamese cat with tan fur and black feet. He wears a white karate uniform when he's training. During his free time, he wears a white T-shirt with a red bowtie and gray sweatpants. After three years, Yao started to wear a yellow Chinese jacket and gray shorts.
Persoanlity
Despite being kind-hearted, Yao can be sarcastic, wise-cracking and a prankster, making him good friends with Igor, Tony and Kimmy. However, he is very good natured and easy to get along with. He shows great respect toward his father and Gamma.
Yao is ambidexterous, but he prefers to use his right hand.
Whenever he hears something shocking or unbelievable, he often takes out a note pad, writes a message, then holds up the paper with the word "What?" written on it while having a dumbfounded expression.
Ability
Yao is practicing martial arts. He can also play the cello.
Trivia
Yao is fan-made character created by Rigsrigsrigs10918.
His full name is Yao Corleone.
He was born on August 26th.
Ad blocker interference detected!
Wikia is a free-to-use site that makes money from advertising. We have a modified experience for viewers using ad blockers

Wikia is not accessible if you've made further modifications. Remove the custom ad blocker rule(s) and the page will load as expected.