Wilma is a member of the Order of the Cattails.
Wilma

"Wilma, the cheerful cat"

Age

16 human years old
11 human years old(Five years ago)

Likes

Bright Eyes, Jayden, cheerleading

Dislikes

Sadness

Relationship

Romero, Emerald, Jade, Kendall, Androy, San-Chan, Suda, Pearl, and Sabrina(Friends)
Jayden and Bright Eyes(Best Friends)

Birthday

April 2nd, 1999

Full name

Wilma James
Appearance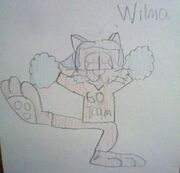 Wilma is a Somali cat with brown fur and brown ears. She wears an orange shirt with the words "Go Team!" on it, mahogany pants and keeps her blue hair in a ponytail. She has purple eyes and is the same height as Faith.
Personality
Wilma is playful and cheerful. She loves cheerleading and is good friends with Jayden and Bright Eyes. She is also considerate about her friends' feelings. Her favorite food is peanut butter and jelly sandwiches and orange soda. She is not interested in romance.
Ability
Wilma is a prodigy at cheerleading. She can also play the trombone. When in combat, she hides weapons in her pom poms and assists Jayden in his battles.
Trivia
Wilma is a fan-made character created by Rigsrigsrigs10918 and CartoonLover.
Wilma hails from Anaheim, California.
Her full name is Wilma James.
Her birthdate is April 2nd, 1999.
Ad blocker interference detected!
Wikia is a free-to-use site that makes money from advertising. We have a modified experience for viewers using ad blockers

Wikia is not accessible if you've made further modifications. Remove the custom ad blocker rule(s) and the page will load as expected.