Tiny is the brawn of Pupzan's tribe.
Tiny

Tiny, the strongest member of Pupzan's tribe

Age

12 dog years old
9 dog years old(1.3 human years old)(Three years ago)

Likes

Lifting boulders, Pupzan

Dislikes

Evil

Relationship

Pupzan(Master)
Digit(Friend)
Laturna(Friend)
Zigzag(Friend)
Ollie(Friend)

Appearance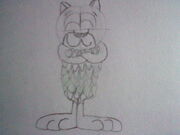 Tiny is a small gray wolf who wears a leotard made of vines and leaves. His scrawny arms and legs hide great strength. Along with Digit, Tiny is considered to be the smallest member of Pupzan's tribe. He is smaller than Whopper. After three years, Tiny started wearing a magenta cloak.
Personality
Tiny is a friendly dog and tries to be helpful but his low IQ tends to get in the way. However, he is brave and loyal and gets steamed when someone poses as a threat to his friends, family or jungle home. He speaks with a Southern accent.
Ability
Despite his small height and scrawny arms, he can effortlessly lift and carry very heavy objects, including boulders and elephants.
Trivia
Tiny is a fan-made character created by Rigsrigsrigs10918 and Disneydude15.
Ad blocker interference detected!
Wikia is a free-to-use site that makes money from advertising. We have a modified experience for viewers using ad blockers

Wikia is not accessible if you've made further modifications. Remove the custom ad blocker rule(s) and the page will load as expected.