Thomas is the second child of Howler and Amy.
Appearance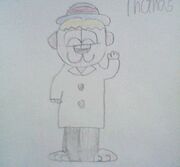 Thomas is a pug/chihuahua mix with brown fur and blonde hair like this father. He wears a white lab coat with long black pants covering most of his feet. He also wears a black derby with a red stripe. After three years, Thomas started wearing a black cloak, red shorts, and white socks with holes for his toes.
Personality
Thomas is smart and inventive, like his parents, though he is apparently the most clumsy and absent-minded of the four. He enjoys building and spending time with his family. He is also good friends with Dexter and he is closest to Joanna, his baby sister. He has a crush on Magic. Thomas is considered to be a miniature version of his father.
Ability
Thomas skilled at inventing. He is also good at playing the piano and singing. Like Howler, he can also play the piano with his feet.
Trivia
Thomas is a fan made character created by Rigsrigsrigs10918.
His birthday is April 8th, 2012.
His full name is Thomas Johnson.
Ad blocker interference detected!
Wikia is a free-to-use site that makes money from advertising. We have a modified experience for viewers using ad blockers

Wikia is not accessible if you've made further modifications. Remove the custom ad blocker rule(s) and the page will load as expected.