Suda is a member of the Order of the Cattails.
Suda

Suda, the expert of Muy Thai

Age

36 human years old
31 human years old(Five years ago)

Likes

Practicing, martial arts movies, sushi, rice balls

Dislikes

Soap operas, bugs

Relationship

Romero, Emerald, Jade, Kendall, Androy, San-Chan, Pearl, Sabrina, and Wilma(Friends)
Brass(Descendant)
Elaine(Owner)
Tony, TJ and Cooler(Heroes)

Birthday

July 19th, 1979

Full name

Suda Saowaluk
Appearance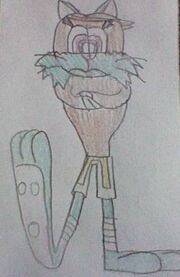 Suda is a tall, brawny Kurilian Bobtail cat with brown fur, brown ears, red eyes, a green-blue muzzle, green-blue hands, and green-blue legs and feet. He wears white and yellow boxing shorts, an orange headband and bandages wrapped around his wrists and ankles. He is the same height as Gamma, making him the tallest of all the Pound Purries.
Personality
Suda has a short-temper and will quickly lash out at those who insult his friends. Despite that, Suda is friendly and approachable to his friends. His favorite hobby is practicing Muy Thai and watching martial arts movies. He speaks in a booming, bass voice. He is also a fan of Tony, Cooler and TJ and forms a special bond with them. His favorite food is sushi, tacos and rice balls. He has a habit of resting his feet on tables. He also has a phobia against bugs, meaning that whenever Suda sees a bug, he would jump into someone's shoulders and scream. He has a strong dislike for soap operas and romance because he thinks they're boring.
Ability
Suda is an expert Muy Thai boxer and is also very flexible, meaning that he can do almost all activities with his feet. He is also a good driver. Suda can play the saxophone.
Gallery
Trivia
Suda is a fan-made character created by Rigsrigsrigs10918 and CartoonLover.
He hails from Bangkok, Thailand.
His full name is Suda Saowaluk.
His birthdate is July 19th, 1979.
Ad blocker interference detected!
Wikia is a free-to-use site that makes money from advertising. We have a modified experience for viewers using ad blockers

Wikia is not accessible if you've made further modifications. Remove the custom ad blocker rule(s) and the page will load as expected.