The Stoneheart Family is the main antagonist group in the Pound Puppies TV Series.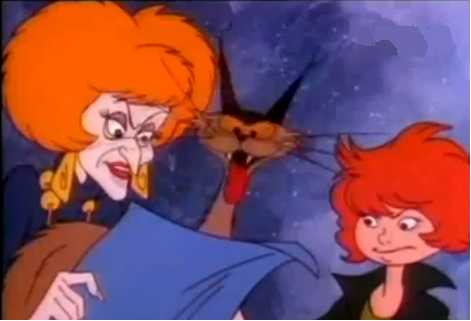 The Stoneheart Family
The Stonehearts are a family of villains who oppose the Pound Puppies and try to ruin their lives. They tried to close down the pound, build condos in the pound's place, and try to lock them up forever. However, with the help of Holly, Cooler, and the other puppies, their plans have always failed.
The family consists of Katrina Stoneheart, her daughter, Brattina Stoneheart, and their cat Catgut, who aids his owners in their schemes against the Pound Puppies.
Season 1
In Season 1, after Katrina's great-aunt Millicent Trueblood died, she was hoping to inherit her mansion and the pound, since no will was found. Unfortunately, a will was found and she only got the mansion. Holly got the pound. Ever since then, they tried to either shut down the pound, build condominiums, and pull a "Cruella de VIl" by making fur coats out of the dogs. In later episodes, they recruited Captain Slaughter to help with their plans.
Season 2
In Season 2, for reasons unexplained, Katrina owns the pound. Her original plans in the first season were never mentioned and were completely forgotten. Instead, she operates the pound like it's a prison and prevent the dogs from finding homes, but was always foiled by Cooler.
Additional Members
Besides Katrina, Brattina, and Catgut, there could also be more members of the Stoneheart Family. They include the Stoneheart Six, who work as Katrina's henchmen.
Notes
Captain Slaughter doesn't appear in Season 2. It is likely that he was fired by Katrina for messing up by failing to capture the puppies. Brattina, however, had a crush on him.
Katrina may have wanted to use Holly as a slave. In "How to Found a Pound," when she tells Brattina to do chores, Brattina replies, "But, mommy dearest. That's why we let Holly live here."
Ad blocker interference detected!
Wikia is a free-to-use site that makes money from advertising. We have a modified experience for viewers using ad blockers

Wikia is not accessible if you've made further modifications. Remove the custom ad blocker rule(s) and the page will load as expected.