This is Spudge if he were to join the Pound Puppies.
Spudge(Pound Puppy Version)

Spudge, Mimi-Nose's husband

Age

20 dog years old
17 dog years old(Three years ago)

Likes

Mimi-Nose, Howler, inventing

Dislikes

Captain Slaughter

Relationship

Mimi-Nose(Wife)
Howler(Best Friend)
Gamma(Mentor)
Washington, Togo, and Linus(Sons)
Mara-Nose(Daughter)
Mario(Brother-in-Law)
Nose Marie(Sister-in-Law)
Cooler(Brother-in-Law)
Norman and Mariah(Father and Mother-in-Laws)
Appearance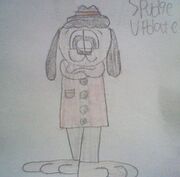 Spudge now wears a bright red jacket with black buttons, gray jogging pants, and a black fedora with an orange stripe. He is also well-groomed and has grown short, dark hair. His height is similar to Colette's height. After three years, Spudge started wearing green socks with holes for his toes, a mahogany cloak, and his hair grew longer.
Personality
Like his TV series counterpart, Spudge is kind and caring. He is still very good friends with Howler and has started dating Mimi-Nose in which he later married her. His arch-enemy is now Captain Slaughter. He is easily annoyed by Dumbo's stupidity. He has since become more cunning. In addition, he now speaks in a smooth, cheerful voice.
Abillity
Spudge has learned martial arts and has started making inventions after training under Gamma. He also took up drawing and carving. When threatened, his weapon is a garden rake.
Trivia
This is a fan made prediction of Spudge created by Magic-is-cute.
Ad blocker interference detected!
Wikia is a free-to-use site that makes money from advertising. We have a modified experience for viewers using ad blockers

Wikia is not accessible if you've made further modifications. Remove the custom ad blocker rule(s) and the page will load as expected.