The Someone, Somewhere reprise was a song featured in Garbage Night: The Musical.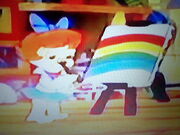 "Red, yellow, green, and blue, I'm painting a rainbow just for you." This article doesn't have enough pictures. You can help by adding some pictures to give this article some pizazz.
Description
As Scrounger and his friends sing about getting adopted, Melissa and the other children at the Haven House Children's Home sing about adopting puppies of their own.
Gallery
Ad blocker interference detected!
Wikia is a free-to-use site that makes money from advertising. We have a modified experience for viewers using ad blockers

Wikia is not accessible if you've made further modifications. Remove the custom ad blocker rule(s) and the page will load as expected.