Sandra is a female dog who runs a library located in Holly's Puppy Pound.
Sandra

Sandra the librarian

Age

17 dog years old
14 dog years old(2 human years old)(Three years ago)

Likes

Reading books, Dexter, John

Dislikes

Loud noises

Relationship

July(Good friend)
Dexter(Good Friend)
John(Husband)
Little Paw(Best Friend)
Howler(Best friend)
Pencil(Assistant)
Sammy, Jenny, Lillian, and Homer(Sons and Daughters)
Appearance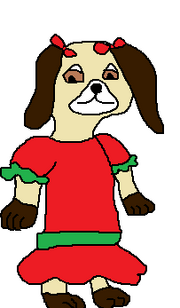 Sandra is a tan beagle pug mix with dark brown ears and hands, a white muzzle, and brown eyes. She wears a red and green dress and red bows on her ears. Three years later, Sandra started wearing a plaid shirt and a brown skirt. She is the same height as Howler.
Personality
Sandra is smart, nice and shy. She very good friends with July. She hardly ever goes on missions with her fellow Pound Puppies, as she spends most of her time in her library, though she tries to help them in any way she can when she fears her close friends are in danger. Sandra is easily annoyed by Dumbo's stupidity. She had a crush on Dexter, but then fell in love with John(also known as the Bone Ranger), who is now her boyfriend. She finds John "dreamy". When John revealed his identity to her, Sandra still loved him. Most of her friends call her "Sandy". Her best friends are Little Paw and Howler. Whenever there is nothing to do at the library, she would read a good book.
Ability
Sandra can play the cello and has a good singing voice. She can also memorize the history of books and their authors. She also founded a book club with Little Paw.
Trivia
She is a fan made character created by Magic-is-cute and Rigsrigsrigs10918.
Sandra hails from Galena, Illinois.
Sandra's name is not to be confused with Holly and Howard's mother.
Her full name is Sandra Retriever.
Ad blocker interference detected!
Wikia is a free-to-use site that makes money from advertising. We have a modified experience for viewers using ad blockers

Wikia is not accessible if you've made further modifications. Remove the custom ad blocker rule(s) and the page will load as expected.