This is Pupnick if he were to join the Pound Puppies.
Pupnick(Pound Puppy Version)

Pupnick, now a Pound Puppy

Age

17 dog years old
14 dog years old(Three years ago)

Likes

Dancing, his family, disco

Dislikes

Dr. Paw

Relationship

Brambles(Young Brother)
Puplina(Mother)
Tatyana(Older Sister)
Lay-Sobaki(Father)
Ruby(Wife)
Pat and Lorna(Brother and Sister-in Law)
Baxter and Pupnick Jr.(Sons)
Roxanne and Cherry(Daughters)
Gamma(Mentor)
Appearance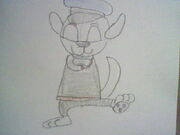 What is different from his TV Series counterpart is that Pupnick now wears a red jacket and black pants. He also five dog years older. Pupnick is the same height as Nose Marie. After three years, Pupnick started wearing a green cape and grew tufts on his cheeks.
Personality
He still has his love for his new home country and still does the hopak whenever he is in a happy mood. This time, Pupnick is more braver, more intelligent, and more daring than he was before. He grew out of his love for Bright Eyes, though he still is a good friend to her. He doesn't mind Dumbo's stupidity. In addition, Pupnick started dating his new girlfriend, Ruby, who used to be Dr. Paw's right hand woman. He also cares about his baby brother, Brambles. He will also not hesitate to protect Brambles from danger. He likes dancing to classical music and disco.
Ability
After training under Ramon and Gamma, Pupnick began practicing martial arts and capoeira. He also uses his dancing skills to keep his enemies at bay. He can also play the balalaika, which is a Russian stringed instrument.
Trivia
This is a fan-made prediction of Pupnick created by Magic-is-cute and Rigsrigsrigs10918.
Ad blocker interference detected!
Wikia is a free-to-use site that makes money from advertising. We have a modified experience for viewers using ad blockers

Wikia is not accessible if you've made further modifications. Remove the custom ad blocker rule(s) and the page will load as expected.