Mikey is the third child and oldest son of Catgut and Michelle.
Appearance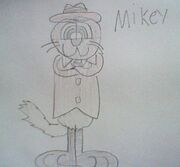 Mikey is a Siamese cat with dark brown fur and black feet. He wears an orange buttoned-up trenchcoat with an orange fedora. After three years, Mikey started wearing white pants and grew longer tufts on his cheeks.
Personality
Mikey is smart and logical. He enjoys reading and exploring the nature around him. He detests pollution and litter. He is also a health fanatic, often looking for new ways for keep others healthy. He often helps Vigor and Precious recycling garbage.
Ability
Mikey can play the violin.
Trivia
Mikey is fan-made character created by Rigsrigsrigs10918.
His full name is Michaelangelo Corleone.
He was born on August 26th.
Ad blocker interference detected!
Wikia is a free-to-use site that makes money from advertising. We have a modified experience for viewers using ad blockers

Wikia is not accessible if you've made further modifications. Remove the custom ad blocker rule(s) and the page will load as expected.