Mervin is a one-time character from the TV Series. He is the love interest of Holly and the former love interest of Brattina Stoneheart.
Mervin

Mervin and Holly

Presumed Age

9.5 years old

Likes

Holly, dancing

Dislikes

Being shy, Brattina

Relationship

Holly(Love interest)
Brattina(Former love interest)

Voice Actor

Danny Cooksey
Appearance
Mervin is a blonde-haired boy about the same age as Holly and Brattina. He wears a gray shirt with a white jacket and shoes as well as a brown belt and blue jeans.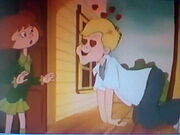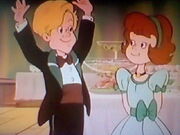 Personality
Mervin is a kind-hearted boy. He is a bit timid; he gulps and pulls his shirt collar when trying to ask Holly to the dance. He temporarily fell in love with Brattina and completely forgot about Holly when Zazu's spell went wrong. This is fixed later on and he dances with Holly.
Trivia
Mervin is never seen or mentioned for the remainder of the series.
Danny Cooksey, who provided the voice of Mervin, is known for his roles as Brett and Chet in the 2012 film, the Lorax, as Montana Max in the 1990's series Tiny Toon Adventures, as Tim in Terminator 2: Judgement Day, as Sam McKinnley in the 1970's series Diff'rent Strokes, Brad Buttowski in the series Kick Buttowski, and as the titular character in the series Dave the Barbarian.
Danny Cooksey also played the character Tiny in Happy Howlidays and Casey in Casey, Come Home in the Pound Puppies TV Series.