May is Marcus' little sister.
May

"'Major' May"

Age

18 years old
15 years old(Three years ago)

Likes

Marcus, Camille, Elaine, Momo, Cookie, and Cupcake

Dislikes

Harsh judgments

Relationship

Marcus(Older brother)
Camille(Pet)
Momo(Pet)
Elaine(Sister-in-Law)
Cookie(Pet)
Cupcake(Pet)
Tony Rigs(Brother-in-Law)
TJ Rigs(Borther-in-Law)
Horatio and Irene Vanderfeller(Father and Mother-in-Laws)

First Appearance

Birthday

August 8th, 1997
Appearance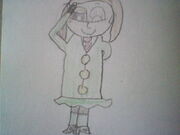 May is a teenaged girl who wears a green unifrom, a green skirt, a white shirt, a red tie, black short pants, green socks, and black heels. She also has long, brown hair. Her casual clothing consists of a green sweater, pink pants, and pink sneakers. After three years, May wears her casual clothes more often, but she also wears a baseball cap.
Personality
While Marcus is tough and authoritative, May is sweet and compassionate, although she is slightly authoritative. She loves her brother and her pets more than anything in the world. She also shows great respect toward Elaine, her sister-in-law. She is good friends with the Pound Puppies and Pound Purries.
Ability
May is skilled in martial arts and uses a long, red staff as her weapon.
Trivia
May is a fan-made character created by Rigsrigsrigs10918.
Her full name is May McGillicuddy.
Her birthday is August 8th, 1997.
Ad blocker interference detected!
Wikia is a free-to-use site that makes money from advertising. We have a modified experience for viewers using ad blockers

Wikia is not accessible if you've made further modifications. Remove the custom ad blocker rule(s) and the page will load as expected.