The Long Claws were a group of cats who will join the Pound Purries.
Description
The Long Claws were once a gang of outlaws hired by Kactus Jack Stoneheart to cause trouble at Tossin Town.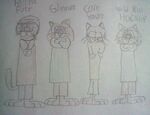 After they learned that Kactus Jack was going to kill them, they sought refuge and joined forces with the Pound Purries.
Members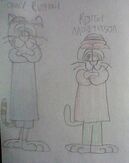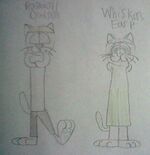 Their leader was a large siamese cat named
Templeton Catscratch
. The second-in-command was a tabby named
Kitty James
. The third-in-command was a very small kitten named
Billy the Kitten
. Additional members were
Bella Furr
,
Glimmer
,
Cole Yowler
,
Wild Bill Hackup
, 
Johnny Ringtail
, 
Korat Masterson
,
Whiskers Earp
, and
Ragdoll Dalton
.
Trivia
The Long Claws is a fan made group created by Magic-is-cute and Rigsrigsrigs10918.
Bella Furr and Glimmer were the only female members in the group.
Nine of the Long Claws are named after famous outlaws. Bella Furr is named after Belle Starr; Kitty James is named after Jesse James; Billy the Kitten is named after Billy the Kid; Whiskers Earp is named after Wyatt Earp; Cole Yowler is named after Cole Younger; Johnny Ringtail is named after Johnny Ringo; Ragdoll Dalton is named after Rob Dalton; Korat Masterson is named after Bat Masterson; and Wild Bill Hackup is named after Wild Bill Hickock.
Templeton Catscratch hails from London, England. Kitty James hails from Cheyenne, Wyoming. Billy the Kitten and Bella Furr hail from Arlington, Texas. Johnny Ringtail hails from Boise, Idaho. Whiskers Earp and Cole Yowler hail from Ames, Iowa. Korat Masterson hails from Brooklyn, New York. Wild Bill Hackup hails from Rock Island, Illinois. Glimmer hails from Olympia, Washington. Ragdoll Dalton hails from San Francisco, California. Templeton is the only member of the Long Claws to be born out of the United States.
Ad blocker interference detected!
Wikia is a free-to-use site that makes money from advertising. We have a modified experience for viewers using ad blockers

Wikia is not accessible if you've made further modifications. Remove the custom ad blocker rule(s) and the page will load as expected.