Ling is the middle child and third son of Catgut and Michelle.
Appearance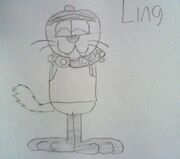 Ling is a Siamese cat with tan fur and black feet. He wears a light blue shirt with a brown vest. He also wears a black ski hat and an orange scarf. He wears goggles because he says glasses would make him look nerdy. He also has sharp teeth. After three years, Ling started wearing a brown sweater and light blue pants.
Personality
Ling is not the bravest child of the bunch, however, he is the most cautious. While the rest of siblings enjoy activities like exploring, sports or martial arts, he prefers meditating, reading, listening to soft music and painting. Unlike the rest of his family, he hates tea because he says it leaves a bad taste in his mouth. Whenever he sees something scary, Ling would hide behind his older.brothers.
Ability
Ling is a good painter.
Trivia
Ling is a fan-made character created by Rigsrigsrigs10918.
His full name is Ling Corleone.
He was born on August 26th.
Ad blocker interference detected!
Wikia is a free-to-use site that makes money from advertising. We have a modified experience for viewers using ad blockers

Wikia is not accessible if you've made further modifications. Remove the custom ad blocker rule(s) and the page will load as expected.