Let's Start Pounding is a song that was featured in Garbage Night: The Musical.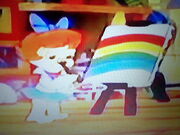 "Red, yellow, green, and blue, I'm painting a rainbow just for you." This article doesn't have enough pictures. You can help by adding some pictures to give this article some pizazz.
Description
Cooler sings as he and the others are chased by Katrina, Brattina, and Brattina throughout the city.
Gallery
Ad blocker interference detected!
Wikia is a free-to-use site that makes money from advertising. We have a modified experience for viewers using ad blockers

Wikia is not accessible if you've made further modifications. Remove the custom ad blocker rule(s) and the page will load as expected.