Laturna is a member of Pupzan's tribe.
Laturna

Laturna the Beautiful wolf

Age

19 dog years old
16 dog years old(2.3 human years old)(Three years ago)

Likes

Digit, cooking, playing her flute, reading

Dislikes

Villains

Relationship

Pupzan(Master)
Digit(Boyfriend)
Tiny(Friend)
Zigzag(Friend)
Ollie(Friend)
Lobo and Bolo(Friend)
Gamma(Mentor)

Appearance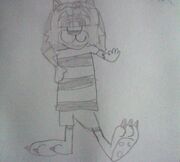 Laturna is a tan wolf with long dark brown hair. She wears a white T-shirt with black stripes, like a zebra, and white shorts. She also wears a tropical flower in her hair. She also has small eyelashes. Laturna has red claws on her toes. She is taller than Marcus. After three years, Laturna started to wear a pink and white striped jumpsuit and a red derby.
Personality
Laturna is the pretty one of the team. She likes to hit on the male members of the team, especially Digit. She is also very loyal to Pupzan and the jungle. She can't stand those who try to harm her people or her home. She speaks in a soft, soothing Spanish accent. While she enjoys her life in the jungle, Laturna dreams of traveling around the world with Digit, Ollie, and Zigzag. Laturna loves reading.
Ability
Laturna is a good cook and can also play the flute. While training under Gamma, she is practicing kick-boxing.
Trivia
Laturna is a fan-made character created by Rigsrigsrigs10918 and Disneydude15.
Laturna was born in Barcelona, Spain and grew up in the jungle.
Gallery
Ad blocker interference detected!
Wikia is a free-to-use site that makes money from advertising. We have a modified experience for viewers using ad blockers

Wikia is not accessible if you've made further modifications. Remove the custom ad blocker rule(s) and the page will load as expected.