Kohaku is one of the Seven Samurai Dogs.
Kohaku

Kohaku, the fastest member of the Seven Samurai Dogs

Age

19 dog years old
16 dog years old(2.3 human years old)(Three years ago)

Likes

Running, playing his shamisen, cherries, cherry pie

Dislikes

Boredom

Relationship

Ichiro(Friend)
Daikeizu(Friend)
Issun(Friend)
Fubuki(Friend)
Kaguruma(Friend)
Bara(Friend)
Gamma(Mentor)
Appearance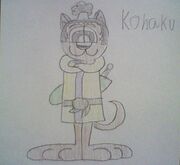 Kohaku is a Kai Ken dog wear brown fur. He wears a yellow kimono, a black belt, and carries a sword in a green sheath on his back. He has his dark hair in a topknot. After three years, Kohaku started wearing a white headband and red shorts.
Personality
Kohaku is street-smart and book-smart. He is a very quick talker. He loves running around because of the wind blowing in his hair. He also likes to eat cherries. He is good friends with Susanoo. Kohaku is quickly short-tempered and will lash out at those who try to mess with him. He worships Zigzag as a hero and dreams of having a race with him. His favorite food is cherry pie.
Ability
Kohaku is gifted with lightning-fast speed and is also acrobatic. He is also a good shamisen player.
Trivia
Kohaku is a fan-made character created by Rigsrigsrigs10918.
His name is Japanese for "Amber".
Kohaku hails from Shirakawa, Japan.
Gallery
Ad blocker interference detected!
Wikia is a free-to-use site that makes money from advertising. We have a modified experience for viewers using ad blockers

Wikia is not accessible if you've made further modifications. Remove the custom ad blocker rule(s) and the page will load as expected.