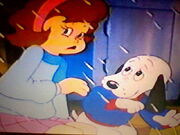 "Good ol' Dab Nabbit will have this wikia fixed...." *Explosion* "For Good." Think you can do a better job than Dabney Nabbit? You can help by adding more info in this article or getting rid of some stuff that is making this article too long to read. You can also give this article some pizazz by adding pictures as well.
Jonathon's hometown is a location seen in Casey, Come Home.
Description
This is a small town located on the other side of Danger Mountain. It is the home of Jonathon and his family.
History
Reunion<Casey, Come Home>
Casey and his owners were separated while they were on a camping trip. When the Pound Puppies followed Casey to this place, Casey and Jonathon were reunited thanks to Puppy Power.
Ad blocker interference detected!
Wikia is a free-to-use site that makes money from advertising. We have a modified experience for viewers using ad blockers

Wikia is not accessible if you've made further modifications. Remove the custom ad blocker rule(s) and the page will load as expected.