Joanna is the youngest child of Howler and Amy.
Joanna

"Joanna, the youngest daughter of Howler and Amy"

Age

6 dog years old
3 dog years old(0.4 human years old)

Likes

Jewel, Jackie, Jessie, Dexter, sports, Topaz

Dislikes

Boredom

Relationship

Howler(Father)
Amy(Mother)
Andy(Older brother)
Thomas(Older brother)
Howlette(Older sister)
Dexter(Best Friend)
Jewel(Best Friend)
Jessie(Best Friend)
Jackie(Best Friend)
Herman and Ida(Grandparents)
Stephanie(Descendant)
Anthony and Andrea(Grandparents)
Howletta(Aunt)
Arthur(Uncle)
Topaz(Hero)
Appearance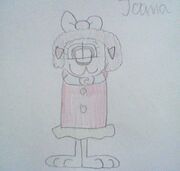 Joanna is a pug/chihuahua mix with tan fur and brown, curly hair. She wears a red vest over a light blue shirt with a light green skirt and a white bow. After three years, Joanna started wearing a purple leather jacket.
Personality
Like the rest of her family, she is brainy, calculative and creative.  She is the most observant of the four. She is athletic, tomboyish and exuberant as well as enjoys a good game, so she's good friends with Jackie, Jessie and Jewel. She is close to her brother Thomas and her guardian Dexter. She idolizes Topaz and dreams of becoming a mer-dog like her.
Ability
While Joanna is good at inventing, she is also skilled at playing baseball and soccer.
Trivia
Joanna is a fan-made character created by Rigsrigsrigs10918.
Her birthday is April 8th, 2012.
Her full name is Joanna Johnson.
Ad blocker interference detected!
Wikia is a free-to-use site that makes money from advertising. We have a modified experience for viewers using ad blockers

Wikia is not accessible if you've made further modifications. Remove the custom ad blocker rule(s) and the page will load as expected.