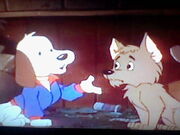 "Hey, what's your name fella?" "I ain't got no name." This article contains a character or group of characters that are yet to be named.
Jeff and Tammy's Puppy and Kitty is a pound owned by
Jeff and Tammy
in
Pound Puppies and the Legend of Big Paw
.
Description
Like Holly's Puppy Pound, this pound has houses for kittens and puppies who are not yet adopted. However, this pound also has a gym for puppies and kittens to exercise, a treehouse for puppies to play at, and the main building.
Notable Persons (And Animals)
Jeff and Tammy's Puppy and Kitty Pound is a place where Jeff, Tammy, the Pound Puppies and the Pound Purries hang out.
Ad blocker interference detected!
Wikia is a free-to-use site that makes money from advertising. We have a modified experience for viewers using ad blockers

Wikia is not accessible if you've made further modifications. Remove the custom ad blocker rule(s) and the page will load as expected.