Helga is the twin sister of Bigor.
Appearance
Helga is a Transylvanian Hound with brown fur and tan paws. She wears an orange vest, a yellow shirt, black shorts, pink socks with holes for her toes, purple sunglasses, and a blue baseball cap. She is the same height as Igor.
Personality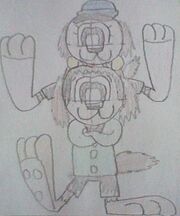 Despite her age, Helga is mature. She is also cheerful, happy-go-lucky, and artistic. She gets along with her twin brother, Bigor, along with her twin cousins, Igor and Vigor. She doesn't like it when her cousins and brother quarrel with each other. Since she is a pacifist, Helga can't stand violence. Her favorite food is cheeseburgers.
Ability
Helga is a very graceful dancer. She is a very great painter and can also play the oboe.
Trivia
Helga is a fan-made character created by Rigsrigsrigs10918.
Like Bigor, she hails from Krakow, Poland.
Her full name is Helga Tchowkovsky.
Ad blocker interference detected!
Wikia is a free-to-use site that makes money from advertising. We have a modified experience for viewers using ad blockers

Wikia is not accessible if you've made further modifications. Remove the custom ad blocker rule(s) and the page will load as expected.