Flynn is a Pound Purry who is a member of the Elite Eighteen.
Flynn

Flynn, the team's pilot

Age

17 human years old
14 human years old(Three years ago)

Likes

Flying, his friends, fish tacos with French fries

Dislikes

Peaches, loud noises

Relationship

Clement, Veronique, Wilton, Grant, Tulip, Marcy, Mai, IQ, Hibachi, Paku Paku, Cactus Flower, Lyra, Ice Cap, Nanki Pu, Plasma, Proton, and Harriet(Friends)
Forte(Rival)

Birthday

March 21st, 1998

Full Name

Flynn Evan Foster

Nickname

Elite Two
​Appearance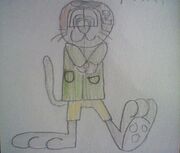 Flynn is a Devon Rex with gray fur, black nose, gray ears and a long tail. He wears a jade green jacket, yellow shorts and a brown helmet with black shades and a blue two on it. He also has blue eyes and blond hair when he takes off his helmet. He is the same height as Howard. After three years, Flynn started wearing a jade green scarf and no longer wears his helmet. He has the number two birthmark on his left foot.
​Personality
Flynn is adventurous and eccentric. He longs to fly in the skies. He has a rivalry with Forte and cannot stand loud music because he has sensitive hearing. His favorite food is fish tacos with french fries and his least favorite food is peaches.
​Ability
Flynn has good piloting and driving skills. He can also play the cello. Flynn can use his tail when his hands are full. He can also sing in a tenor voice.
​Trivia
Flynn is a fan-made character created by Rigsrigsrigs10918 and CartoonLover.
Flynn hails from an airport in Worcester, Massachusetts.
His full name is Flynn Evan Foster.
His birthday is March 21st, 1998.
Flynn's father was a former pilot for the Chicago airport.
His codename is "Elite 2."
Ad blocker interference detected!
Wikia is a free-to-use site that makes money from advertising. We have a modified experience for viewers using ad blockers

Wikia is not accessible if you've made further modifications. Remove the custom ad blocker rule(s) and the page will load as expected.