Dr. Weston is a veterinarian who appeared in the TV special.
Dr. Weston

Dr. Weston, originally seen in the TV Special

Presumed Age

36 Years old

Likes

Helping animals, the Pound Puppies

Dislikes

Those who bully the Pound Puppies

Voice Actresses

Vicki Carroll(TV Special)
Haunani Minn(Snowbound Pound)


Relationship

Pound Puppies(Good friends)
Bigelow(Boss)


First Appearance

The Pound Puppies

Latest Appearance

Episode 4: Snowbound Pound
Appearance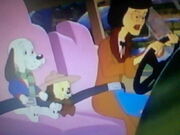 Dr. Weston has brown, curly hair. She wears a white jacket, a blue shirt, blue earrings, a blue skirt, blue shoes, and red lipstick. In Snowbound Pound, she is an Asian-American women with short black hair. She also wear a brown coat, a white shirt, and a black tie.
Personality
She tends to the Pound Puppies and other animals when they were injured. Secretly, she is a good friend of the Pound Puppies and even helps Cooler get out solitary confinement. As seen in the title sequence of the TV Special, Dr. Weston is protective of the Pound Puppies.
History
Dr. Weston Helps the Pound Puppies<TV Special>
When Cooler was sentenced to solitary confinement, Cooler faked sickness and Dr. Weston participated, fooling Bigelow and Nabbit into letting Cooler go. It was she who helped Cooler get back on his feet when he got hit by the dognappers' van.
Saving Shauna<Snowbound Pound>
Cooler and Whopper came to Dr. Weston's office to tell her that Shauna is expecting puppies. With the help of Howler and a group of wolves, Dr. Weston, Cooler, and Whopper were able to reach Katrina's house, where Shauna is located. Dr. Weston was able to help Shauna give birth to nine healthy puppies.
Ability
Dr. Weston's occupation is a veterinarian. She helps animals when they were injured. In Snowbound Pound, she was able to help Shauna give birth to nine puppies and save Cooler's life.
Trivia
Dr. Weston is neither mentioned nor seen again for the remainder of the TV Series.
Vicki Carroll, who voiced Dr. Weston in the TV Special, is married to fellow voice actor Michael Bell. She was also known as the voice of Sadie Mae Scroggins in the 1987 TV Special, Scooby Doo Meets the Blues Brothers, as the nurse in the 1977 film, The Kentucky Fried Movie, and as the Receptionist in the 1985 film, The Man with One Red Shoe.
Ad blocker interference detected!
Wikia is a free-to-use site that makes money from advertising. We have a modified experience for viewers using ad blockers

Wikia is not accessible if you've made further modifications. Remove the custom ad blocker rule(s) and the page will load as expected.