Digit of a member of Pupzan's tribe.
Digit

Digit, the smartest wolf of Pupzan's tribe

Age

15 dog years old
12 dog years old(1.7 human years old)(Three years ago)

Likes

Pupzan, Laturna, making sketches

Dislikes

Everything scary

Relationship

Pupzan(Master)
Laturna(Girlfriend)
Ollie(Friend)
Zigzag(Friend)
Tiny(Friend)

Appearance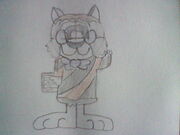 Digit is a short gray wolf with light brown hair. He wears an orange shirt with black stripes, like a tiger, his favorite animal, along with a purple bow tie, and glasses. He usually carries his handmade abacus with him. He is the same height as Howler. After three years, Digit started wearing orange pants and became taller than Howard.
Personality
Digit is the brains of the group. He is smart, calculating and inventive. While Pupzan, Lobo, Laturna and Zigzag find interest in his lectures, Bolo, Tiny and Ollie are bored by them. However, he is not very brave or strong.
He has a crush on Laturna.
Ability
Digit is a good sketch artist.
Trivia
Digit is a fan made character created by Rigsrigsrigs10918 and Disneydude15.
Digit's abacus is made from wood, vines and stones.
Ad blocker interference detected!
Wikia is a free-to-use site that makes money from advertising. We have a modified experience for viewers using ad blockers

Wikia is not accessible if you've made further modifications. Remove the custom ad blocker rule(s) and the page will load as expected.