Dabney Nabbit is the dogcatcher who appeared in the TV special.
Dabney Nabbit

Nabbit, originally seen in the 1985 TV Special

Appeared in

The Pound Puppies

Likes

Watching TV, Catching Stray Dogs, Itchy and Snichey

Dislikes

Fleas, Dogs Getting Hurt

Presumed Age

35 Years Old

Relationship

Sidney Bigelow (Boss)
Itchy and Snichey(Pets)

Voice Actor(s)

Henry Gibson (TV Special)
Frank Welker (Snowbound Pound)
Appearance
Nabbit is a large and fat man. He wears a white dog-catcher's uniform with some patches on his pants. He is sometimes seen carrying a net and a whistle.
Personality
Nabbit behaves like a dog, mainly because he growls and bites when he has fleas. Nabbit is somewhat gullible, but he is loyal to Bigelow. He does his best trying to catch the Pound Puppies from escaping. He also tries to act tough. He does show remorse for the Pound Puppies like when Cooler got hit by Flack and Tubbs' van and shows relief when Cooler recovers. He is also persistant. When he is not catching puppies, his favorite hobby is watching TV.
Ability
While Dabney is not a good mechanic, he is shown to be a good driver, as he is seen driving his van in the TV special.
Trivia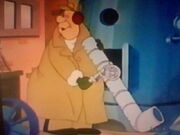 Although Nabbit never appears in the TV Series, he makes a guest starring appearance in
Snowbound Pound
as the persistant furnace repairman trying to fix the furnace at
Holly's Puppy Pound
.
Henry Gibson, who provided the voice of Nabbit in the TV Series, was known as the Head Nazi in the 1980 film, the Blues Brothers and as the voice of Wilbur in the 1972 film, Charlotte's Web before his death on September 14h, 2009.
Ad blocker interference detected!
Wikia is a free-to-use site that makes money from advertising. We have a modified experience for viewers using ad blockers

Wikia is not accessible if you've made further modifications. Remove the custom ad blocker rule(s) and the page will load as expected.