The Copter-Catcher is an invention made by Katrina Stoneheart in Where Do Puppies Come From?.
Description
The Copter-Catcher is a helicopter shaped like a bird with two metallic claws.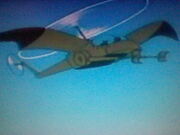 Usage
With a push of a button, the Copter-Catcher uses its claw to grab a nearby target with ease. Its pilot is Brattina.
Ad blocker interference detected!
Wikia is a free-to-use site that makes money from advertising. We have a modified experience for viewers using ad blockers

Wikia is not accessible if you've made further modifications. Remove the custom ad blocker rule(s) and the page will load as expected.