Charles is the first child and oldest son of Charlemange and Hairball.
Charles

Charles, oldest son of Hairball an Charlemange

Age

8 human years old
5 kitten years old(Three years ago)

Likes

Rhyming, poetry, singing

Dislikes

Those who write bad poetry

Relationship

Hairball(Father)
Stefan and Pan(Descendants)
Charlemange(Mother)
Henrietta(Younger sister)
Hairball Jr.(Younger brother)
Rose(Younger sister)
Appearance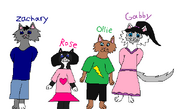 Charles is a Nebelung/Colorpoint Shorthair kitten with gray fur, whiskers, a pink nose, and a white left foot. He wears a blue shirt and light blue shorts. He also has blue eyes and short dark hair. After three years, Charles started wearing black socks with holes for his toes and a gray sweater.
Personality
Charles is whimsical and care-free. He tends to speak in rhyme while talking which annoys some of Sons and Daughters of Holly's Puppy Pound. Despite that, he is very mature and looks after his younger brother and sisters. He is good friends with Jelly Bean and sees her as an older sister.
Ability
Charles is a good poet and singer. He is also a good swimmer.
Trivia
Charles is a fan-made character created by Magic-is-cute and Rigsrigsrigs10918.
Ad blocker interference detected!
Wikia is a free-to-use site that makes money from advertising. We have a modified experience for viewers using ad blockers

Wikia is not accessible if you've made further modifications. Remove the custom ad blocker rule(s) and the page will load as expected.