Catherine is the first born child and oldest daughter of Catgut and Michelle.
Appearance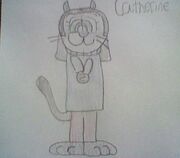 Catherine is a Siamese cat wearing a blue turtleneck sweater and red pants. She has a tan fur, long, dark hair, black paws, black nose, and black ears. Catherine also has green eyes. After three years, Catherine started wearing a blue dress and pink socks with holes for her toes.
Personality
Catherine is just like her mother; she sweet, patient and compassionate. She is also devoted to her family and will do anything to help her parents and protect her little siblings.
Ability
Catherine has a beautiful singing voice and accompanies Elaine in a duet. Like her father, Catherine is an expert at knitting.
Trivia
Catherine is a fan-made character created by Rigsrigsrigs10918.
Her full name is Catherine Corleone.
She was born on August 26th.
Ad blocker interference detected!
Wikia is a free-to-use site that makes money from advertising. We have a modified experience for viewers using ad blockers

Wikia is not accessible if you've made further modifications. Remove the custom ad blocker rule(s) and the page will load as expected.