Bara is one of the Seven Samurai Dogs.
Bara

Bara, the compassionate member of the Seven Samurai Dogs

Age

21 dog years old
18 dog years old(2.6 human years old)(Three years ago)

Likes

Ichiro, playing her flute, backgammon, salad

Dislikes

Sadism

Relationship

Ichiro(Husband)
Daikeizu(Friend)
Issun(Friend)
Kohaku(Friend)
Fubuki(Friend)
Kaguruma(Friend)
Gamma(Mentor)
Appearance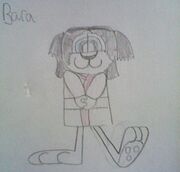 Bara is a Japanese Chin with black fur, a white muzzle, black ears, and white paws. She wears a pink kimono and a magenta sash around her waist. She also has long, dark hair and blue eyes. After three years, Bara started wearing a nurse's cap and sometimes wears pink slippers.
Personality
Bara is sweet, compassionate, and gentle. She is also sympathetic and with comfort those whose feelings are hurt. Bara is also tomboyish and has a crush on Ichiro. She finds Dumbo's dim-witted antics funny. She loves a good game of backgammon. Bara later married Ichiro.  Her favorite food is salad.
Ability
Bara is a skilled martial artist. She is also advanced in medical science. Bara is currently training to be a veterinarian.
Trivia
Bara is a fan-made character created by Rigsrigsrigs10918.
Her name is Japanese for "Rose".
Along with Issun, Bara hails from Kyoto, Japan. Bara is not related to Issun.
Gallery
Ad blocker interference detected!
Wikia is a free-to-use site that makes money from advertising. We have a modified experience for viewers using ad blockers

Wikia is not accessible if you've made further modifications. Remove the custom ad blocker rule(s) and the page will load as expected.