At the Canine Cafe is a song seen in Garbage Night: the Musical.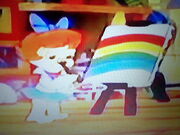 "Red, yellow, green, and blue, I'm painting a rainbow just for you." This article doesn't have enough pictures. You can help by adding some pictures to give this article some pizazz.
Description
The manager, a poodle, and his two assistants sing about the place they run called the Canine Cafe.
Gallery
Ad blocker interference detected!
Wikia is a free-to-use site that makes money from advertising. We have a modified experience for viewers using ad blockers

Wikia is not accessible if you've made further modifications. Remove the custom ad blocker rule(s) and the page will load as expected.