Antony

Antony, the magicain thief

Age

25 dog years old

Likes

Stealing bones, gyros

Dislikes

Relationship

Chaos Dogs (Friends)
Big Paw and Rover (Enemies)
Antony is known to be the name of the magician thief. He works for of the Chaos Dogs. He also serves as a villain in the fan-made series.
Appearance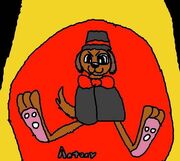 Antony is a Beagle with brown fur. His ears are dark brown, there is a monocle on his right eye. His hat is black and it looks like a magician's hat. He has a red bow tie on his neck.
Personality
Antony is very smart, he thinks only of taking and even steals things hang nights. He is very quick to escape from his enemies. He is a huge fan of Blackbone. Like Darku, he is easily annoyed by Sharko's stupidity. His favorite food is gyros. He speaks in a baritone Greek accent.
Ability
Antony uses magic weapons to disappear like a real magician. His hat is a makeshift boomerang.
Trivia
Antony is an original character created by Doly Carvalho.
He hails from Athens, Greece.
He actually works as Dragon's right hand to keep an eye out on Blacky.
Ad blocker interference detected!
Wikia is a free-to-use site that makes money from advertising. We have a modified experience for viewers using ad blockers

Wikia is not accessible if you've made further modifications. Remove the custom ad blocker rule(s) and the page will load as expected.