Annie is the second child and second oldest daughter of Catgut and Michelle.
Appearance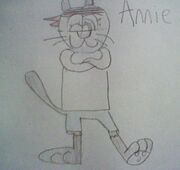 Annie is a Siamese cat with tan fur and black feet. She wears a red and blue headband, a white sleeveless T-shirt and blue shorts. After three years, Annie started wearing orange leg warmers.
Personality
Annie is adventurous and fun-loving. She loves sports and games, so she is good friends with Jackie and Jewel. She gets easily bored when everything is quiet and whenever there is a slow day at the puppy pound. Annie also likes to hang out with Zachary.
Ability
Annie is athletic and participates in every sport.
Trivia
Annie is a fan made character created by Rigsrigsrigs10918.
Her full name is Annabel Corleone.
She was born on August 26th.
Ad blocker interference detected!
Wikia is a free-to-use site that makes money from advertising. We have a modified experience for viewers using ad blockers

Wikia is not accessible if you've made further modifications. Remove the custom ad blocker rule(s) and the page will load as expected.