Andy is the oldest son and child of Howler and Amy.
Andy

"Andy, Howler and Amy's eldest child"

Age

7.1 dog years old
4.1 dog years old(0.6 human years old)(Three years ago)

Likes

His family

Dislikes

Those who have no patience

Relationship

Howler(Father)
Amy(Mother)
Thomas(Younger brother
Howlette(Younger sister)
Joanna(Younger sister)
Howletta(Aunt)
Arthur(Uncle)
Stephanie(Descendant)
Herman and Ida(Grandparents)
Anthony and Andrea(Grandparents)
Appearance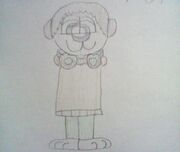 Andy is a pug/chihuahua mix with brown fur and hair. He wears an orange sweater with green pants. He also wears goggles. After three years, Andy started wearing sunglasses and a brown derby.
Personality
Like his parents, Andy is intelligent and inventive. He loves to help his parents come up with new ideas for inventions. He also inherited his mother's patience; he is very easy-going and doesn't let things get under his fur. He respects Dexter, cares a great deal about his siblings, and does not mind Dumbo's stupidity, though he is indifferent to him as well.
Janice likes to flirt with him, but he thinks she's just a friend. It was eventually revealed that Janice was only teasing him. His favorite food is tomato soup.
Ability
Like his parents, Andy is also skilled at inventing. He can also play the piano and draw sketches.
Trivia
Andy is a fan made character created by Rigsrigsrigs10918.
Andy shares the name with a similar character from Pups on the Loose.
He was born on April 8th, 2012.
His full name is Andrew Leslie Johnson.
Ad blocker interference detected!
Wikia is a free-to-use site that makes money from advertising. We have a modified experience for viewers using ad blockers

Wikia is not accessible if you've made further modifications. Remove the custom ad blocker rule(s) and the page will load as expected.